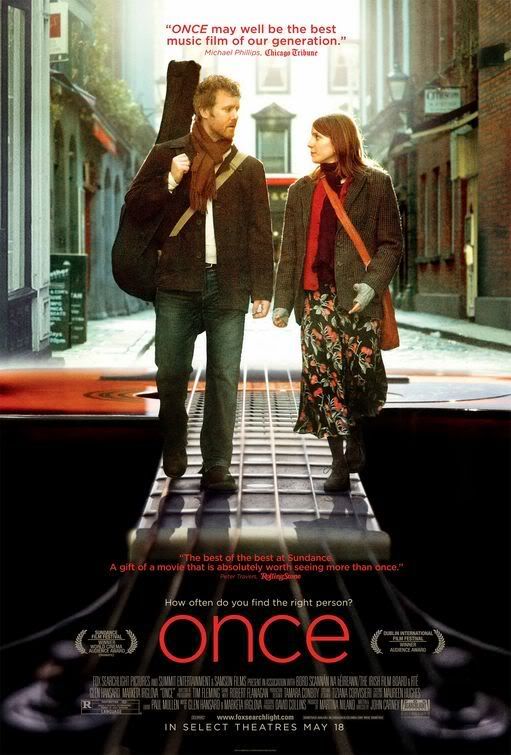 I don't recall any recent movie that was as critically acclaimed as Once. Last I checked, it had a 97% positive rating on the movie site Rotten Tomatoes. It's been billed, correctly, I think, as a musical for those who like music but hate musicals. I mean, there's no Ewan McGregor from Moulin Rouge, merry murderers from Chicago or even Jennifer Hudson from Dreamgirls, all of which I've seen, by the way, breaking into song to advance the plot. All the music comes from their "real" situations, and works, perhaps, because musicians who could act were cast, rather than actors who could sing.

Carol and I got a babysitter and went to see Once last month at the Spectrum in Albany, when it was down to two shows a day, as it turns out the week before it closed. It's the story of a Guy (Glen Hansard) in Ireland who is a busker with a guitar, an aspiring singer/songwriter and vacuum cleaner repairman who meets a Girl (Marketa Irglova), who's also a singer/songwriter as well as a pianist. They end up making beautiful music together in an "organic" way. But it doesn't play out exactly how you might think.

Incidentally, I capitalized Guy and Girl, because that's how the characters are billed; likewise Guy's Dad (Bill Hodnett) and Girl's Mother (Danuse Ktrestova).

I really don't know how to describe this any further without giving out key plot points, except to say that we too were charmed and captivated by Once. It has a running time of 85 minutes, and it's rated R, almost certainly for the substantial use of the F-word. In fact, much of the scene before the credits even pop up is laced with that word; it lessens considerably after that, but you may want to watch this with other adults.
***
Gay Prof says something snarky about the impeding departure of Karl Rove so I don't have to.

ROG